Pepperl + Fuchs is the world leader in solutions for installations in explosive areas with the widest offer on the market. Intrinsic barriers limit the power supplied to the circuit to a safe level, thus protecting the existence of ignitable power in the event of a fault. There are intrinsic barrier solutions for different requirements. We invite you to see more of the offer:
Zenner barriers
Zenner Barriers on the one hand prevent the transmission of excessive energy from the non-explosive zone to the explosive zone, thus avoiding the ignition of the explosive atmosphere. This solution is ideal when galvanic isolation is not required. Zenner barriers require an earth connection, taking care of its impedance. With high density solutions The Zener barriers of the Z system are available with up to 2 channels in 12.5 mm thickness. Variants with field-replaceable fuses offer a convenient way to disconnect or open the instrument loop without interfering with wiring, greatly facilitating commissioning and maintenance tasks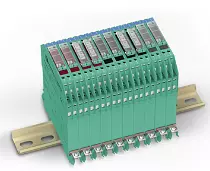 Isolation barriers
In addition to the explosion protection function, intrinsic safety barriers offer galvanic isolation to protect measurement and control circuits from signal distortions and dangerous overvoltages. These interfaces also convert, standardize, divide or amplify signals. The most required intrinsic safety barriers with galvanic isolation are the K System modules with flexible DIN rail mounting. The K-System intrinsically safe light curtains easily connect with the rail over mounted to the DIN rail. The use of this overmounted rail reduces wiring by supplying power to the modules from it.